Joshua's Hammer
is the ninth novel in the Kirk McGarvey series of adventures. The author is David Hagberg whose work
we have reviewed before
.
Kirk McGarvey is the all American action hero. Even though he is a "big wig" as the Deputy Director of Special Operations, he still rolls up his sleeves and does plenty of hands on work. He can compare to such other well known literary action figures like
Cussler's Dirk Pitt
, and
Coonts' Jake Grafton
. Despite some medical issues, he performs admirably throughout the entire novel.
Joshua's Hammer
is also notable for the villain involved: Osama Bin Laden. There is a lot of insight into Bin Laden's psyche, methods, and organization within the book. What is even more impressive is that
Joshua's Hammer
was written pre-9/11! This is another example of a cautionary tale, that ends up containing an eery sense of prophecy in the post 9/11 world, like Larry Bond's
Day of Wrath
.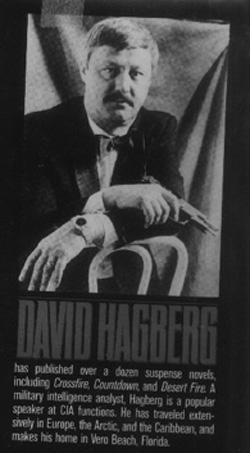 The plot is intricately planned, and complicated, so plan on taking a little extra time and concentration on this one. There are also a lot of details into the President's Secret Service and the CIA's procedures. The cast of characters is also quite lengthy, which also contributes to the time needed to enjoy this work.
The novel starts with a meeting between Garvey and Bin Laden. The tension was palpable, and I felt like a fly on the wall of the cave when I read it. The rest of the novel is a cat and mouse game with a suitcase nuclear on the loose. It all builds to a nail biter ending that will have you on the edge of your seat like only a handful of novels are capable of.
What also contributes to making this a great novel is that we are given insight into each of the family's and their dynamics. There is a well planned parallelism, and contrast, between three daughters: McGarvey's, Bin Laden's, and the President's.

Joshua's Hammer
is an excellent thriller that stands with the best of them. If you want a well developed plot, with believable characters, then this is definitely worth a read. Without reservation, I can give it our highest recommendation.
Joshua's Hammer
should be at the top of your books to be read this summer.

Overall Grade: A+
Also by Hagberg:
By Dawn's Early Light
Eden's Gate